Welcome to Chiropractic Azamino Office HP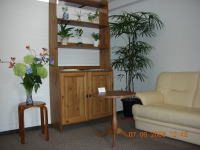 One min from AZAMINO Station
get out of east exit of Tokyu Denen Toshi Line or Subway
go straght to bus road
make a left to come to the first signal
then you will see the Azamino Estate Bldg
at the corner we are at the second floor

Please call for appointment 045-901-4855


To prevent from infection of corona virus
Please refrain from coming in if you have fever,cough or abnormal sense of taste and olfection
Please let us check your temperature by non-contact thermometer.
Please keep wearing mask.
Please wash your hands by alcohl placed at the reception.

Chiropractor washes his hands by alkohl and wears mask.
Chiropractic tables are disinfected by alcohl every time.
Towels used during therapy are replaced and washed every time.
Ventilation of the room is frequently made


-Reception-
Weekdays 9:00-19:00
Sat & Sun 9:00-17:00
Wed closed

-Address-
Azamino Estate Bldg No.203
1-6-2 Shinishikawa
Aoba-ku, Yokohama



If you are suffering from
stiff shoulder, neck pain, headache etc.caused by PC desk work;
low back pain, strained back, neuralgia brought by works or sports,
I am sure that my Chiropractic is giving you the best solution。
---
Courses and Fees
Courses
Chiropractic Course
Bowleg Remedy Course
Pelvis Remedy Course
Facial Course


Fees for any course(about 50 minutes)
Initial Inspection Fee -Yen 3,300
Therapy Fee --------Yen 5,500

Book Tickets -------Yen27,500
(6 times therapy)
---
Let me say
-My concept of Chiropractic-
There are so many kinds of chiropractic in the world.
My chiropractic is
--based on the science of anatomy and orthopedics
--to find out the cause such as spasm of
muscle, pressure to nerve, dysfunction of joints etc.
--to approach the cause gently
--to make therapy only by hands without giving pain to the patient
--to improve the constitution of patients
Many patients were relieved from the pain and numbness to get back to their comfortable life.
It is my great honor to see such patients.
Please feel free to call me.
George Nakai, Director
-Introduction of myself-
I suffered from low back pain while I lived in US. I went to the Chiropractic doctor in the neighborhood and it was amazing that I was relieved.
I would like to relieve the people who are suffering. It is the reason I learned to be a chiropractor.
Now I am pleased to say that I've been giving comfort to many patients.
......George Nakai, Director
......Chiropractor authorized by Japanese Association for Chiropractic Medicine
○○○○

○○○○

○○○○
---